Painesville Economic Development Opportunities Report March 2023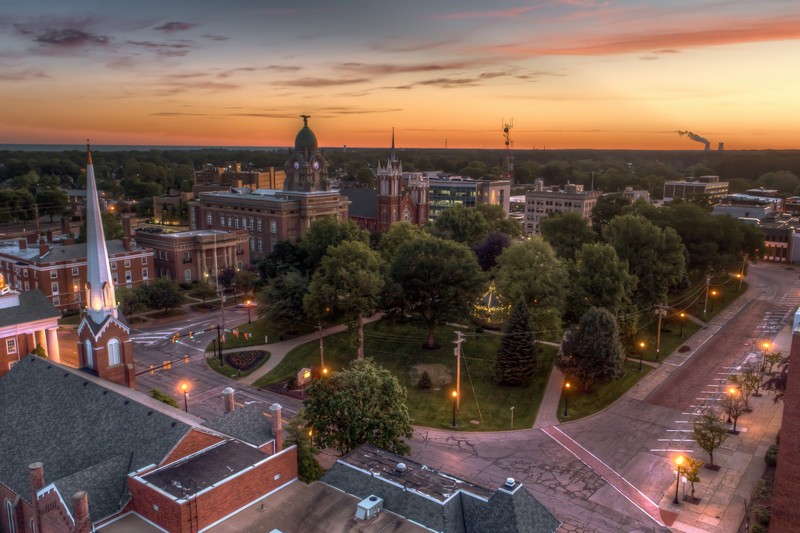 Available Properties in the City of Painesville, Ohio
Located along the beautiful Grand River and known for steelhead fishing, the City of Painesville, Ohio is a true American original. Residents and businesses take great pride in being the Lake County seat, and the center of one of the fastest growing areas in the County, ranking #3 in "The Top 10 Best Cleveland Suburbs For Young Professionals!"
Welcome to the City of Painesville
Welcome to the City of Painesville, where it all comes together for business. Just 30 miles east of Cleveland and 2.5 miles south off the Lake Erie shores, Painesville is a city that business and industry cannot afford to overlook. It is currently the third largest city in this rapidly growing county.
The phrase "Painesville Area" often refers to the grouping of Painesville City, Painesville Township, Grand River, Fairport Harbor, Leroy Township and Concord Township. The area of Painesville City is about 7 square miles, having a current population of around 20,300. When combined with the surrounding Painesville Township, the area has a population of roughly 37,250.
The combination of geographic location, business and educational resources, skilled labor force and city-owned sewer, water, and electric utilities, make Painesville a great choice for business relocation or expansion.
Painesville's easy flow to markets is based on its direct location along US-20 connecting to the crossroads of the highly traveled major interstate highway system, the I-90 Corridor. With the interstate and state highways in such close proximity, Painesville is well-positioned for smooth transport of people, freight, and cargo.
Air travel options include the Lake County Executive Airport located approximately 10 miles from Painesville, the Northeast Ohio Regional Airport, located less than 30 miles from Painesville, Cleveland Hopkins International Airport, an easy 45-minute drive, and the Akron-Canton Airport, which can be reached within an hour. As for rail service, the CSX Grand River Railway interchanges in Painesville on the former NYC Water Level Route offers "live transfer" of materials.
Why Painesville?
A unique competitive feature of the City of Painesville is that it owns and operates its own Electric, Water and Wastewater facilities and services. This enables the City to provide low-cost, reliable utility services to both residential and commercial customers.
Whether it's a small startup, a 100+ year-old bakery, or a Fortune 500 company, Painesville is home to many thriving businesses. Given our strategic location, and Painesville's low cost of living (18.2% lower than the U.S. average), it is no wonder that some of the nation's most successful manufacturing and industrial leaders are located in the City, including:
Avery Dennison
AeroControlex
Mar-Bal Corporation
Guyer Precision
Eckart America
Cintas
Meritec/Ohio Associated Enterprises LLC
All main offices and local county government and court systems are located in the City. The largest employers in the city are the Lake County Government offices, the public-school system and Lake Erie College.
Painesville is home to Lake Erie College, a private liberal arts school known for equestrian studies. The College plays a role in the local economy with a fluctuating undergraduate student population of around 800 and 17 NCAA varsity sports teams. Painesville is also home to Morley Library and multiple historic districts.
Taking Care of Business
The City of Painesville's Economic Development Department is your window to business success, offering the business tools needed to successfully grow and expand your business now and into the future. Painesville is proud of the partnerships with state and regional organizations which foster business growth and development.
Of particular significance is the support provided by Team Northeast Ohio (Team NEO). TeamNEO is one of Ohio's most dynamic and innovative economic development partnerships, representing the eighteen (18) counties that comprise Northeast Ohio. The region boasts:
A workforce of more than 2 million and is home to 40% of Ohio's Fortune 1000 companies (the most Fortune 1000 companies of any region in Ohio)
More than 200 global companies
Approximately 800 world business headquarters
Northeast Ohio's central location reaches the largest number of consumers in a 250-mile/400-km radius compared with any other metro market in the U.S.A.
Businesses who decide to make Painesville their home can benefit from a Key Account Service Program, a Community Reinvestement Areas (CRA) Program and Grant Funding and Tax Credits. From providing loan assistance to providing fast track permitting and infrastructure assistance, it is clear that the City of Painesville is dedicated to your success.
With the combination of a competitive geographic location, business and educational resources, a skilled labor force and locally operated and owned municipal utilities, Painesville could be considered one of the best business locations in the Cleveland area. We hope you visit and see for yourself. The City of Painesville could be your next big opportunity!
Site opportunities include:
191,000 sq. ft. available office/commercial/residential space
Painesville – Richmond Rd. "Triangle" Site: Richmond & Rt. 2
38 acres of industrial/general business
85 acres vacant industrial land
Painesville – Renaissance Business Park
Painesville – 444 Newell Street
8,588 sq. ft. of industrial space
Public Power and AMP
Public power utilities are not-for-profit, community-owned electric systems that work to provide the highest quality, most reliable power to residents and businesses. They are a part of the communities and focus on what is best for the people and businesses they serve.
American Municipal Power, Inc. (AMP) is the nonprofit wholesale power supplier and services provider for 133 members in the states of Indiana, Kentucky, Maryland, Michigan, Ohio, Pennsylvania, Virginia, West Virginia; as well as the Delaware Municipal Electric Corporation, a joint action agency in Smyrna, Delaware. On behalf of our members, AMP deploys a diverse renewable generation portfolio along with environmentally responsible programs and services as part of a corporate commitment to sustainability.
For more information about our member communities and programs, visit searchampsites.com.
Thank you for your interest in AMP Economic Development