Community Profile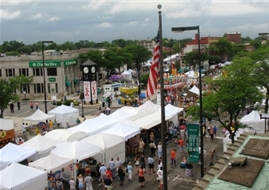 A waterfront community along the shores of the Detroit River, Wyandotte is sometimes referred to as the "Downriver's Downtown". With Interstate 75 ten minutes to the west, Interstate 94 eighteen minutes to the northwest, and Interstate 96 twenty-two minutes to the north, access to other communities is quite achievable. The City of Detroit is less than a 30 minute drive, while Windsor, Ontario, can be driven in less than an hour. One can commute to cities such as Grand Rapids, Michigan; Ft. Wayne, Indiana; and Cleveland, Ohio; in less than three hours.
Wyandotte Municipal Services provides electric, water, phone, internet, and cable television in the community. It is our goal "to provide competitive services in an efficient, reliable, fiscally and environmentally responsible manner". In 2008, we received the Greening Downriver Award and strive to become a Green City. By burning alternative fuels to produce electric, using solar energy in public buildings, redeveloping Brownfield sites, and the addition of wind turbines, we believe we are well on our way.
Local students may choose to attend Wyandotte Public Schools – a system with many achievements both by the school and individual teachers, or the various parochial schools throughout our community. There are many opportunities to commute to colleges/universities within one hour or less. They include: University of Michigan – Dearborn, University of Michigan – Main Campus, University of Toledo, Wayne State University, Marygrove College, etc.
When it comes to leisure activities, we offer a wide variety of sports and leisure, including beautiful parks for relaxation; sporting activities; historical, art, and cultural programs including museums, monuments and sculptures; an annual street fair; and other family events. There is something for everyone.
Our community has proven to be a winning combination for such companies as BASF Corporation, the largest chemical company in the world and who does polymer manufacturing; Henry Ford Wyandotte Hospital, and Electro Optics Manufacturing Inc. who performs precision stamping and machinery assembly, and there are more. Why not see if we have the right combination for you?
Thank you for your interest in AMP Economic Development