Community Profile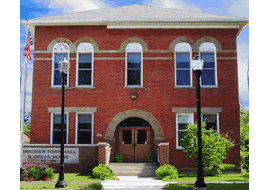 Located in the southwest corner of the U.S. 23/U.S. 6 intersection, we are proud to operate and maintain a municipal electric "public power" system. The system is owned by the community and its people, governed by men and women our citizens elect to the board/council, and provides a reliable source of energy. Electrical issues are dealt with locally – in Bradner – by local personnel.
We are approximately fifteen minutes from the Ohio Turnpike, Interstate 75, and U.S. 20, making a drive to larger metropolitan areas very manageable. Toledo is just 30 miles north, where the Toledo Express Airport can provide air transportation. Within 3-4 hours, one can drive to Gary, Indiana; Erie, Pennsylvania; Cincinnati, Ohio; or Parkersburg, West Virginia.
While accessibility is a major factor in any decision to relocate, it is also important to enjoy the community. Bradner's small-town atmosphere, parks, wooded areas, and landscape provide a relaxing environment and make us a great place to call home.
Lakota Local Schools provide the educational needs of our youth. A variety of higher education is available nearby. Bowling Green State University is only a 17 minute commute. Colleges/universities such as the University of Findlay, Tiffin University, University of Toledo, and Heidelberg College can be driven in 30-40 minutes.
Small-town charm, accessibility, educational opportunities, and more – Bradner is what you're looking for. Stop by or give us a call. We will be glad to show you around.
Thank you for your interest in AMP Economic Development